Not to be confused with Halloween Horror (2014 minigame).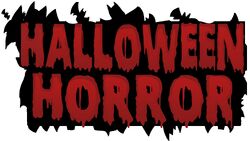 The 2014 Halloween Horror event was an event that took place from October 17th, 2014 to November 7th, 2014. The main attraction of the event was the release of a special limited time minigame of the same name.
During this event, the lobby was temporarily redesigned to feature a Halloween touch, including giant Pumpkins and Skeleton Skulls.
While the event was going on, Flaming Pumpkins started popping up around Mineplex, mainly in games.