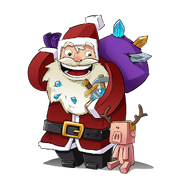 2015 Christmas Chaos Event was an event on Mineplex that started on December 6th and ended on January 7th 2016. The event was themed after Christmas, and changed and added many things, inculding the return of Christmas Chaos, a seasonal Lobby and the release of multiple games and other updates.
Additions
Edit
 Snow Fight was released as a side-game on December 6th.
 The Lobby was changed into a winter theme. This included snow, snowflakes in the sky, the big M in the sky changed into a blue color, and many other changes.
 Christmas Presents sometimes appeared in games. They looked like chests with snow around them, and when broken by fist, they would explode into shards and gems, just like Flaming Pumpkins did. There was also a small chance of getting Titan Rank in them.
 Christmas Chaos was released on December 13th. The reward for completion was 2x Winter Holiday Treasures.
 Winter Holiday Treasure was released as the winter chest. It brought over 20 new cosmetics on the server.

 Along with this chest, many other changes to the cosmetic menu were released.

On Christmas, Christmas Elves were added to the lobby. You had to click them, and they would give you presents in form of various chests or shards.
Ad blocker interference detected!
Wikia is a free-to-use site that makes money from advertising. We have a modified experience for viewers using ad blockers

Wikia is not accessible if you've made further modifications. Remove the custom ad blocker rule(s) and the page will load as expected.