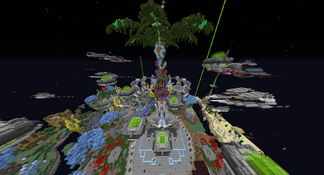 Feature removed
This feature was removed and is no longer available on the server.
| Removal Date | Reason |
| --- | --- |
| Unknown | Weekend event |

The 2017 Alien Invasion Event is an event that started on May 25, 2017. It is the only large event to not be based around a major holiday. The event added many things to the server, most notably the new minigame Alien Invasion.
Although currently unconfirmed, it was most likely created due to the 40th anniversary of the film series Star Wars.
List of changes and additions
Edit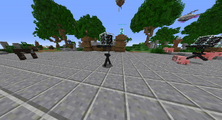 The Main Lobby is redesigned to an alien/space theme. Some major changes include the tree being changed to a space theme, spacecrafts and UFOs floating around, alien robots, futuristic structures, alien plants and trees and much more. It is also permanently nighttime.
The UFO closest to the spawn fires a ray down. Walking into this ray teleports the player to the Alien Invasion minigame.

On the release day, it was only active in one random lobby every 2 hours and much more difficult to enter.

A new event-themed game, titled Alien Invasion. In the minigame, players have to parkour around in an alien colony, while killing aliens that attempt to shoot them off the map.
In Main Lobby Aliens (skeletons with glass block head) are appearing. You can shoot them with paintball gun to kill them. After killing 300 of them the player obtains the event achievement ,,Alien Hub Defender" and a reward of 4000 gems.

On the release day, the requirement was set to 50 kills.
The aliens are sending obfuscated text to players if clicked, they are:

Hey you, I see you using the game log output. You should totally go to Moppletop's wall on enjin and say HOI
Happy little clouds
I believe
Get involved
Every day is a good day when you paint
I wonder if anyone can see these messages
Happy little trees
Beat the devil out of it
Ruff
Ad blocker interference detected!
Wikia is a free-to-use site that makes money from advertising. We have a modified experience for viewers using ad blockers

Wikia is not accessible if you've made further modifications. Remove the custom ad blocker rule(s) and the page will load as expected.