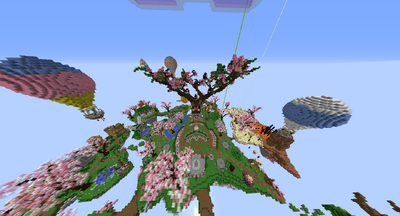 The 
2017 Easter Event 
is an event on
Mineplex
that started on April 14, 2017. The event added many changes, mostly to the 
Lobby
.
List of changes and additions
Edit
The lobby is changed into a Spring/Easter theme. Notable changes include changes to the Hub tree, all trees blossoming, the addition of many colorful Easter Eggs and bunnies all around the lobby, bees, and many more differences.
The 2017 Easter Egg Hunt started. Every day for 3 days (Friday, Saturday, Sunday), 30 easter eggs (heads that look like pink or blue eggs) are hidden somewhere around the Lobby in different locations. When clicked, an egg gives the player 500 shards. When you get all 30, you receive an Omega Chest as a reward. The locations change daily, and everyday you can earn more rewards.
Spring Chests added to the shop. The cosmetics available are:
Egg Baskets re-added to games again. When punched, you get shards and gems, and possibly have a chance of receiving an Omega Chest.
Ad blocker interference detected!
Wikia is a free-to-use site that makes money from advertising. We have a modified experience for viewers using ad blockers

Wikia is not accessible if you've made further modifications. Remove the custom ad blocker rule(s) and the page will load as expected.