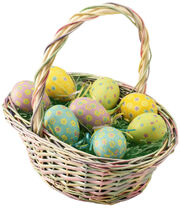 Egg Baskets were chests on Mineplex that were available for a limited time during the 2015 Easter event and the 2017 Easter Event. They randomly appeared in minigames during this time, and had green particles swirling around them along with eggs popping out. Upon breaking, each Egg Basket will drop about 100 Coins (100 Treasure Shards and Gems in 2017). The former is not unlike a Flaming Pumpkin.
Tips for finding Egg Baskets
Edit
The more players were in a game, the more Egg Baskets would spawn. Therefore, to maximize the chances of finding an Egg Basket, players should have played games that had a high number of players.
To minimize any distractions in-game, players should have played minigames that are less combat-oriented. Draw My Thing is a good example.
Main article: Updates
April 3rd, 2015 - Easter & Champions Edit
Ad blocker interference detected!
Wikia is a free-to-use site that makes money from advertising. We have a modified experience for viewers using ad blockers

Wikia is not accessible if you've made further modifications. Remove the custom ad blocker rule(s) and the page will load as expected.