This page is unfinished.
It misses information or is not updated.
Feel free to help by editing the following section(s):
Add sections
This minigame is permanently unavailable.
Reason: PE Seasonal Game for December only
Successor: Not replaced

Merry Mayhem (PE Minigame)

Minigame Type
Holiday
Status
Removed
Teams
Solo minigame
PvP
PvP minigame
Number of Players
Unknown
Game/Statistics Menu Icon
Unknown
Portal Representation
Unknown
Server Tag
MM-#
Main article: Games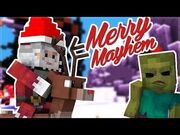 Merry Mayhem is a Holiday minigame on Mineplex PE. In Merry Mayhem, hordes of zombies attack Santa Claus and try to stop him from giving presents. You and your team must defend Santa and save Christmas.
Merry Mayhem is the first holiday minigame for the Mineplex PE server.
Ad blocker interference detected!
Wikia is a free-to-use site that makes money from advertising. We have a modified experience for viewers using ad blockers

Wikia is not accessible if you've made further modifications. Remove the custom ad blocker rule(s) and the page will load as expected.