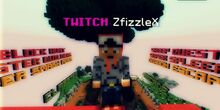 Twitch is a rank on Mineplex; to achieve the Twitch rank, players must actively stream Mineplex videos on Twitch.tv, whilst having a high number of viewers. Being a Streamer gives the player the purple "Twitch" tag in-game (as of May 23rd, 2015, no Forum tag exists).
The current known requirements are 5000 followers on Twitch as well as streams twice a week, relating to Mineplex, with a good amount of views supporting it also.
To apply for the rank, you have to make a Support ticket, where the support agents will take a look at your channel and make a decision on whether you should be given the rank.